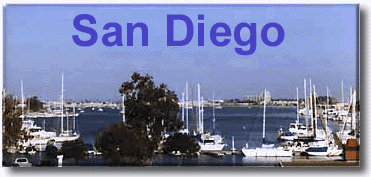 The mission of The San Diego Tourist Page is to provide the viewer with links to the most popular San Diego web pages so that they can find any and all information they may need pertaining to San Diego, California.
On this San Diego Tourist Page you will find San Diego Tourist Attractions, Tourist Towns near San Diego, Hotels, Car Rentals, Weather, Media Links and links to web pages provinding photos and information about San Diego.
If you know of a web page that should have a link on The San Diego Tourist Page, please let us know by emailing us. Thank you for stopping by our web site.
California Home Page
Touring U.S. Home Page