Tourist Attractions
& Recreation

Durango is one of the most popular tourist towns in Colorado and in the United States. You will find plenty to do in Durango during all four seasons. During the summer you can go for a ride down the river on a raft, soar above the area in a glider, take the steam train to Silverton, go mountain biking, rock climbing, go on carriage rides, play golf, go fishing, and view all of the beautiful scenery around Durango. In the winter there is skiing at Purgatory, snowmobiling, going on sleigh rides and snowshoe treks and plenty of indoor activities like seeing melodramas, western stage shows, visiting galleries, gambling in the casinos nearby and dining in outstanding restaurants. There is also plenty of shopping in downtown Durango, both summer and winter.
Durango & Silverton Narrow Gauge Railroad
You don't want to miss this trip. The scenery is beautiful, having lunch in Silverton is fun and you will really enjoy the trip. Train trips are available year-round. Also be sure to schedule extra time to see the D&SNG Railroad Museum in the Durango Railyard Roundhouse. Call for more information 970-247-2733.
Helicopter Tours
New Air Helicopters has two tours available departing from the Animas Airpark. This is a good way to view all of the beautiful scenery and get some excellent photographs. Call them at 970-259-6247 for reservations and prices.
Scenic Glider Rides
"Soar like and Eagle!" You will love looking at the area around Durango from 9,000 feet in a glider. Be sure to bring your camera. You can call the Durango Soaring Club, Inc. at 970-247-9037.
Sky Ute Casino
"Where the odds on fun are second to none!" Slots, Blackjack, 3-Card Poker, Poker and Bingo. Open year round, 24 hours a day, 7 days a week. Located in Ignacio between Durango, Farmington and Pagosa Springs on CO Hwy 172. 970-563-3000.
Ute Mountain Casino, RV Park and Campground
Slots, Poker, Blackjack, Keno and Bingo. Entertainment in the Indian Village.Located in Towaoc only minutes from Mesa Verde National Park. See the Ute Mountain Pottery Factory. Guided tours are available year-round. Call 970-565-8800.
Trimble Hot Springs
Just 6 miles north of Durango you will find The Trimble Hot Springs. They have an 83 degree Olympic pool, 100 to 110 degree Therapy Pools and maggage therapy. For more information call them at 970-247-0111.
Vallecito Lake
Take a scenic 23 mile drive out to Vallecito Lake in Bayfield and enjoy lunch overlooking the water and boats. The lake is one of the largest lakes in Colorado and is surrounded by beautiful scenery. Boating, fishing, dining, horseback riding, hiking and jeeping are available at the lake in the summer. Fall and winter offer snowmobiling, skiing, hunting and more. There is plenty to do at the lake year-round.
Marinas at Vallecito Lake
These full service marinas are located on beautiful Lake Vallecito. They offer: boat rentals, boat ramp, fishing guide service, rental of fishing equipment, bait and tackle sales, buoy service and dock facilities. Call Mountain Marina at 970-884-9450 or Angler's Warf at 970-884-9806 for more information and prices.
Tour Mesa Verde National Park
Pueblo Indians lived in Mesa Verda from 600AD until 1300AD and then left the cliff dwellings. This is a very popular tourist spot with hundreds of thousands of tourists yearly. Most of the area is open year-round. Call 970-529-4461 for more information.
Tour the San Juan Montains
With peaks as high as 13,000 feet, the San Juan Mountains are some of the most beautiful, majestic peaks in the United States. Wildlife abounds throughout the mountains. You can find, elk, deer, bighorn sheep, foxes, bald eagles, hawks and falcons and even an occassional mountain lion. There are several large lakes within easy driving distance from Durango.
Tour the Steamworks Brewery
Vist their historic 75 year old building and watch them brew your favorite hand-crafted beers in their on-site brewery. Located at 801 East 2nd Avenue in Durango. You can call them at 970-259-9200.
Rafting Trips down the Animas River
Rafting down the river in Durango is one of the most popular summer activities. Parking and return transportation to your car is provided.

Contact these rafting companies for your adventure:

Outlaw Rivers & Jeep Tours - 877-259-1800
Rivers West - 970-259-5077
Peregrine River Outfitters - 970-385-7600
Mountain Waters Rafting - 970-259-4191
Flexible Flyers - 970-247-4628
Durango Rivertrippers - 970-259-0289
Watermelon Adventures - 970-946-7238
Southwest Whitewater - 970-259-8313
Horseback Riding and Outfitters
Backcountry Outfitters
From Memorial Day to Labor Day you can take trail rides, pack trips, fishing trips and charter boats with Backcountry Outfitters. They also offer Elk hunting trips.
Rapp Guides and Packers
Experience beautiful southwest Colorado on horseback with the nationally recognized outfitter. One hour, two hours, half day, full day and extended trips are available from late May to early October. Call 970-247-8923.
Over the Hill Outfitters
Two hour and full day horseback rides, custom pack trips, guided fishing trips and Elk and Deer hunts are Over the Hill Outfitters' specialty. Call 970-247-1694.
Southfork Riding Stables & Outfitters, Inc.
All levels of riders are accommodated from the timid tenderfoot to the horse enthusiasts. Over 40 American Quarter horses make up one of the best remudas in the Southwest. Call 970-259-4871 for reservations.
Red Mountain Ranch
Horse and Hay Rides, Fishing and Boating, Camping and RV Sites, Chuckwagon Dinners and Big Game Hunts. Call 970-247-9796.

Chuckwagon Suppers
Enjoy good old chuckwagon cooking and live country music in a country setting. You will love the lively songs, stories and comedy of the Bar D Wranglers at they present their famous stage show on the Old West. Come early and browse through the gift shops. They are open from Memorial Day weekend through Mid September rain or shine. Call 970-247-5753 for reservations and more information.
Rent a Jeep, SUV, Van or Car for Sightseeing
There is a lot of beautiful scenery around Durango. You will want to vist the neighboring towns of Silverton, Purgatory, Telluride and Lake Vallecito. Contact one of the companies below:
Outlaw Tours - 877-259-1800
Rent A Wreck in Durango - 970-247-2111.
The Durango Pro Rodeo Series
Professional PRCA Rodeo every week from June through August at the La Plata County Fairgrounds at 25th and Main. Call 970-247-1666 for more information.
Fishing Guide Service by Duranglers
Fish on your own or go on a guided trip. Flies and supplies are available. 970-385-4081

Mountain Biking, Hiking
and Rock Climbing
Rock Climbing Adventures
Indoor and outdoor rock climbing and hiking. Half and full day guided trips are available by appointment. Nature walks, wilderness education, Yoga, step and kick boxing and personal trainers are available. Call 970-259-5700 for more information and pricing.
Mountain Biking
Explore Durango and the surrounding area on a quality mountain bike from Hassle Free Sports. They have all of the equipment you need. Call them at 970-259-3874
Mountain Bike Specialists
Mountain Bike rentals, sales, service and accessories. Large selection of Mountain Bikes available. See their race history museum. Call them at 970-247-4066
Southwest Adventures Rock Climbing , Mountain Biking, and Hiking
Southwest Adventures is a school and guide service that conducts climbing courses, mountain bike tours and international expeditions. You can call them at 970-259-0370 for more information.

Animas Museum
Durango's only history museum. Through their exhibits, programs, photo archives and research library, Durango-area history unfolds in ways both predictable and bizarre, yet always interesting.
Durango Park
Fun for the whole family....Mini Golf, Go Karts, Arcade. 1 1/2 miles from Durango. Call 970-382-9009.
The Grand Motorcar & Piano Collection
Over $2,000,000 in classic motorcars on display plus a grand piano exhibit. Open summer and winter. Call for hours 970-247-1250.
Old West Photos
Choose from over 150 Old West and Victorian costumes for your photo. All ages and sizes are accommodated. Located at 643 Main Avenue in Durango. 970-247-8626
Spirit of the Southwest Show
Shows nightly with award winning photography on a 30-foot wide Panoramic screen in digital stereo. A story that spans 80 million years of geology. At the Abbey Theater 128 College Drive in Durango. 970-385-1711
Diamond Circle Melodrama
Open early June through early September at the Strater Hotel at 7th and Main in downtown Durango. Call 970-247-3400

Durango Gallery Association
Art Galleries


Durango Arts Center
802 E. 2nd Avenue
Durango
970-259-2606

Toh-Atin Gallery
145 West 9th Street
Durango
970-247-8277

Voyager Productions
123 West 9th Street
Durango
970-385-7496

Termar Gallery
780 Main Avenue
Durango
970-247-3728

Martin & Roll Gallery
635 E. 2nd Avenue
Durango
970-247-2211



Red Canyon
131 East 8th Street
Durango
970-3829855

Gallery Ultima
1018 Main Avenue
Durango
970-247-1812

New West Galleries
747 Main Avenue
Durango
970-259-5777

Mick Reber Studio
846 Lightner creek Road
Durango
970-259-3039

Gold Crafters
826 main Avenue
Durango
970-259-5155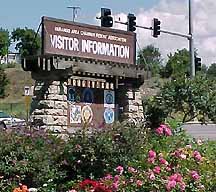 Sign at Vistors' Bureau
If you know of an activity or tourist attraction that
should be on this page, please let us know.
Shopping | Hotels
Photos | Real Estate | Contact Us